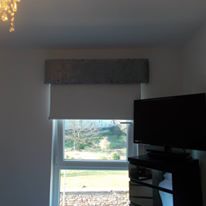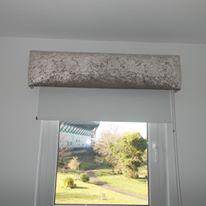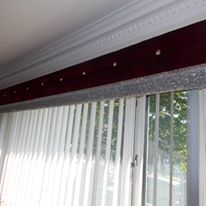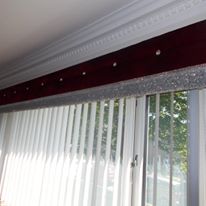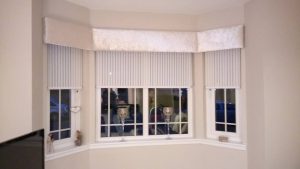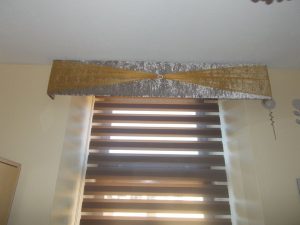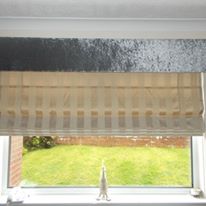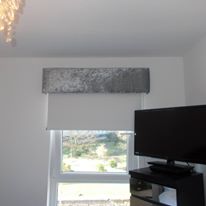 Click On The Images To Enlarge And The Next Arrow At The Bottom Of Each Image To View Them All
Crushed velvet pelmets are now a close rival to our glitter pelmets in 2017. We Will be introducing matching velvet curtains very soon to our collection of products. the crushed velvet pelmets are made from top quality fabric, and made in the same padded box style from OSB fire safe wood, and padded with 12 ounce wadding.
We have installed these for our Glasgow customers in bedrooms, halls, living rooms, kitchens and even bathrooms. They do truly transform every room they have been installed in.
Although we do not stock our own curtain range in the velvet at the moment, we have managed to match the pelmet designs to our existing customers own curtains. Click on the images in the gallery to enlarge.
Benefits of having crushed velvet pelmets
A pelmet, often referred to as a "cornice board" is important in our homes as it serves one key function that is concealing curtain fixtures. Meaning, it is used for decoration, hiding the curtain rod and also helps for insulation purposes. This framework is often placed above the window.
The pelmets are made from fabric, plywood and with others just timber, especially with historic buildings. Under the various materials used forms the basis in categorizing pelmets in general as either hard or soft. Of course your taste and preference will be catered for by the existence of a variety of pelmets made from different fabrics, are of different shapes, sizes and even fixings.
Crushed velvet pelmets
The word Velvety means within some parts of the world,' "smooth like velvet." Velvet, woven as a variety of tufted fabric, comes in different types. For example, there is transparent velvet, Plain, Utrecht, Embossed, Hammered, Panne and of course, crushed velvet among other types.
In terms of crushed velvet, the decorative appearance it has is produced in two ways. One is the pressing of the fabric down in dissimilar directions. The second option is while the material is wet, it is mechanically twisted. Crushed velvet pelmets are used by a number of people within their homes.
These types of pelmets are preferred by most people because they are made from top quality fabric. The high quality fabric of crushed velvet pelmets makes sure that they are able to stay longer. This consequently saves you the occasional cost that would have been spent on replacing the disjointed ones through the tear and wear. Additionally, often the Crushed velvet pelmets are padded with a small size of filling like 12 ounces. This makes it not only looks great but is also not heavier.
In conclusion, crushed velvet pelmets can be used in halls, bedrooms, kitchens, living rooms, and of course even in bathrooms. You are guaranteed that the room which the Crushed velvet pelmets have been installed will greatly be transformed.