Glitter wallpaper is in vougue and available for delivery to our Glasgow customers, we also ship throughout the United Kingdom, with postal costs around £2.34 per metre at the time of writting.
For enquiries Call 07708 179542
if we don't answer right away leave a message and we will call you back asap. Usually within an hour or two.
Samples of glitter
Samples of glitter can be purchased for 99p, through paypal or bank transfer, allowing you to check out our quality before purchasing.
Knowing How Much To order
The glitter wallpaper is cut from a large roll, unlike standard wallpaper. The width on the roll is 1.35 metres. To work out how many metres that you need for any room in your house, measure the height of the wall and multiply by the length, as seen in the ilustration example below.

Free Measure And Quote Locally
If you are unsure how to measure your walls we will come out and do that for you, if you live in Glasgow or surrounding areas. Allow an extra 3 inches to the height and the width of your walls when ordering for overlapping.
How To Apply The Paper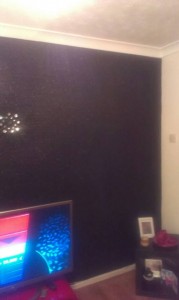 The glitter paper is best hung using a ready mixed wallpaer adhesive, available from any large DIY store. Although the canvas backed paper will cover a multitude of sins on uneven walls, it is always better to make sure all surfaces are clear of any old pieces of paper and sanded to a smooth finish.
The glitter wallpaper that is used for wall covering is the exact same material that we use for our glitter pelmets as seen on our glitter pelmet gallery, the images and colours in the gallery is what we mostly have in stock. Though it is always best to call us on
07708 179542
to check what we have in stock as it sells fast, and new batches can be slighty different shades, but always the same great quality. The images on the page are from a couple of happy clients who sent them after the job in their home was completed by the independant deocraters, whom we recommend, if you purchase from us.